.
COSEN HORIZONTAL BAND SAW
C-460C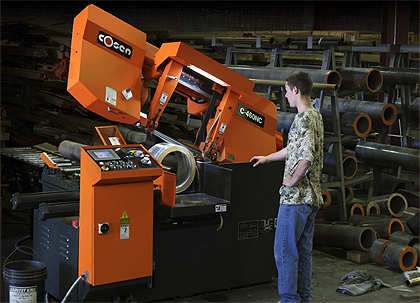 Cosen C-460NC Horizontal Band Saw - This automatic feed wet saw is fully programmable to cut material up to 18" wide into various lengths and hold multiple cut settings to within .005 of an inch. Settings can be stored for repeat orders. It is our workhorse of choice for multi-length processing.
Minimum
OD Capacity

Maximum
Capacity
.25"
18"
All Metals and Shapes
HORIZONTAL BAND SAW
PA13/2P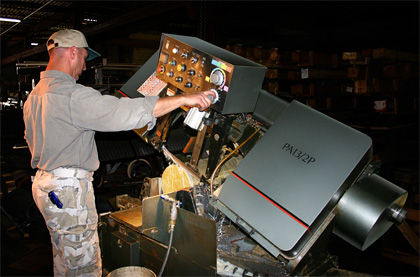 Spartan - PA13/2 - Band Saw -- A fully automatic wet saw used for making single or repetitive cuts to the same length. The digitally controlled auto feed and counting features provide a virtually unlimited number of cuts to precision within .005 of an inch. It handles metals up to 13" wide and as small as .25". The lubricant and coolant used with the saw make it particularly useful for cutting harder metals such as aluminum bronze and nickel. It's 2-3 pitch blade with .008 kerf leaves a finish smoother than a dry cut band saw, but a little rougher than our precision circular wet saw.
Minimum
OD Capacity

Maximum
Capacity
.25"
13"
All Metals and Shapes
About Us: Home Page, Contact Us
•
Aluminum Bronze
:
Tubes, Rods, Squares, Rectangles
•
Architectural Products:
Brackets
,
End Caps
,
Flanges
,
Handrails
,
Posts
,
Angles, U-Channels, Polished Tubing,
Wait Stations
•
Brass:
Rods
,
Sheets
,
Tubes
•
Bronze:
Bearing Bronze
,
Sheet
,
Tubes, U-Channel,
Angles
•
Copper
: Rods, Bus Bar
,
Coil, Sheet
•
Naval Brass: Rod
•
Nickel Silver
: Sheet
•
Processing
•
Red Brass
: Pipe